Last week, our neighbor came over to our house asking us about the Rockettes show in New York City. We have been to see it a couple of Christmas ago because our church organizes a trip every year. And they help us get the tickets. We told her that it was a great show and at the very least, she should take her family to see it at least once. For some reason, she got the motivation to do so this year. And so she sat down with Mrs Credit Card at the dining table and surfed the internet trying to get tickets.
But she came across a stumbling block. All the tickets were sold out on the days that she could make it to New York. Then Mrs Credit Card remembered that we have the Amex Platinum Card and they normally have seats reserved only for card members. So she called Amex and got on the line with someone from concierge (great perk to have when you need one).
It turns out that Amex has seats available for the Orchestra level (ie good seats). My neighbor has a family of four and she intended to invite a couple of her close relatives family to go with her to the show. After a few calls to them to get the OK, she proceeded to book the tickets with Mrs Credit Card Amex Platinum.
Now, here is the interesting part which I never realized until now. Amex Gold Events allow you to book a maximum of 8 tickets under one card address (the reason I never knew this was that whenever I booked tickets through them, it was only for myself and Mrs Credit Card!). But my neighbor had about 12 seats to book. So she booked 7 to start (due to family sizes – it had to be 7). And then we sat down trying to figure out how to book the rest. When Amex says 8 tickets to one billing address, it effectively rules out me helping her out with my card. Then we remembered a mutual friend who also has the Amex Platinum (we split bills at a restaurant once!!), and suggested that she asked her to help her book the rest of her tickets.
The tickets for her "orchestra level seats" cost $89.25 each, making it a total of $624.75. Mrs Credit Card helped her out by using our Amex Platinum Card and we pocketed 624 Membership Reward points (while our friend cut us a check!).
When you go to Amex site, you see them mentioning about "Gold Card Events" as a feature but never really explaining it well. Well, here is a perfect example of how this feature helped out our friend to get tickets that were sold out if you went to places like ticketmaster.com for example. The reason why Amex has these tickets is that they actually sponsor many of these types of events and are allocated seats. Not just ordinary seats, but good seats as well.
As a proof, here is Mrs Credit Card's confirmation email from Amex Concierge.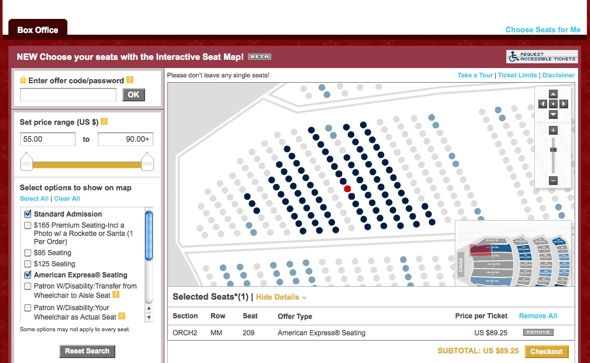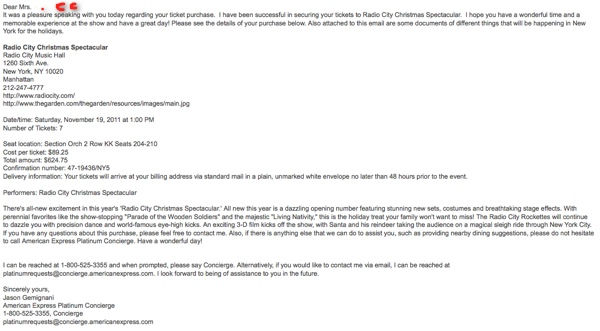 If you ever find yourself in such a situation often enough, you might just want to consider getting an Amex charge card. The problem with getting good tickets like these is that you have to book early. And even then, you may not be assured to good seats. This is where having an Amex charge card really pays off. Just ask yourself how much is this worth? To be able to get tickets when it is already sold out through regular channels.
The following ones have "Gold Card Events" as one of their benefits.
Amex Premier Rewards Gold Card
Related Posts: