Here's an update for those of you who have been following up with the mega sign up bonuses that every card seems to be offering these days. Both Mrs Credit Card and myself signed up for the BA 100,000 Bonus Miles offer a while ago (two months if I recall correctly). The ways it worked was that we got 50,000 bonus miles after our first purchase and another 50,000 after we had spent $3,000 within the first month.
Mrs Credit Card was the first to get her 100,000 bonus miles because she spent into well within one month (as in before her first billing cycle). I put $3,000 on the card as well (but due to the billing cycle), I only got 50,000 during the first cycle. Well, I just got the Chase BA statement today in the mail and another 50,000+ miles were credited into my BA account. I logged onto my account and there it was (see screen shot below).
More Opportunities To Earn BA Miles
Right now, I am considering ways to add more miles to our BA account. But how much? We are in a little bit of a dilemma here. You see, we have three kids. One alternative is to use a total of 250,000 BA miles for 5 economy tickets to Asia via Cathay Pacific next year. All we need is another 50,000 miles (and that is easy to get). But the thought of flying hours (even with a good carrier like Cathay on economy seats) just does not appeal to me.
Perhaps a trip to Europe will do. 60,000 miles on a BA partner will do. That means we need another 100,000 miles (which is doable). Or Mrs Credit Card and myself could take a business flight to Europe (about 120,000 miles per seat) with a partner airline. That means we need about 240,000 miles.
How to Add More BA Miles?
Well, we have a couple of ways to achieve more miles. Firstly, we could both get the Chase Sapphire Preferred Card, which is now offering a 50,000 sign up bonus if you spend $3,000 within 3 months. That would mean another 100,000 for both Mrs Credit Card and myself.
In addition to that, I could transfer the 60,000 bonus miles from my Membership Rewards to BA miles. And if I do it before the end of July 2011, I get 50% more miles. That means potentially another 90,000 (if I choose to). I could also borrow an additional 60,000 bonus miles from my MR because I have the Platinum Card from American Express and I could "borrow" up to 60,000 miles. That means I could actually transfer another 120,000 MR points to get 180,000 BA miles!
I'm not too sure what to do now. It all depends on where I plan to travel next year and I have to plan in advance. But the choices are wide open for me. Chances are that Mrs Credit Card and myself will apply for the Chase Sapphire Preferred Card soon. We'll let you know of our plans once we firm it up.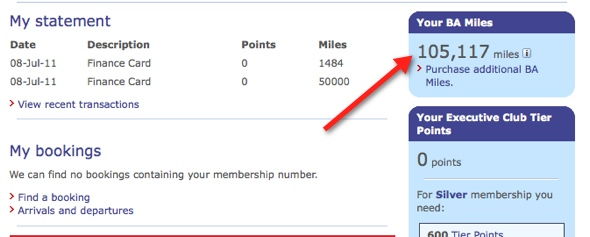 Related Posts: