The American Express Zync Card is a new charge card that is being introduced by Amex. It is targeted at a younger audience who did not grow up in awe of their traditional Green and Gold charge cards. The Zync is a charge card but with a slight twist. Let's explore this card in greater detail.
What is Zync? – Firstly, the Zync(SM) from American Express is a charge card in the traditional sense. You have to pay your bills in full. Being a charge card,it comes with an annual fee. Like all traditional Amex charge cards, you get to earn reward points. The reward program is based on the Membership Rewards Express program, which is one notch below the regular Membership Rewards program. The difference is that while the regular Membership Rewards all you to transfer points into air miles with their airline partners, the Express version does not have that feature.
Unique Features – The Zync though has a very unique feature. They allow cardholders to choose a "package" where they can earn extra reward points (for a fee). Below are the packages.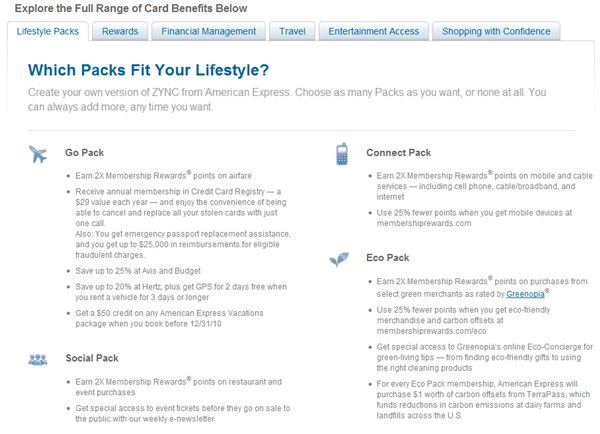 What do I think? – This is a really interesting concept from American Express. Charging a lower fee than their regular charge cards and giving consumers a choice as to what reward points they would like to earn. I think the Zync(SM) from American Express should appeal to folks who want to try give American Express charge cards a try. They could simply start without any "packs" for a very modest fee.
As with any other card, whether you should get this card depends on your circumstances. If you do not spend a lot on the card but want to earn some reward points, perhaps the Blue Card (with the same reward program and no annual fee) might be a better fit. If your job requires that you travel a lot and if you would like to transfer points you earn into miles, then you would be better off jumping straight for the American Express&#174 Preferred Rewards Gold Card. If you really do dine out a lot, perhaps the "social pack" makes sense.
Related Posts: