Following our series of debit and check card reviews, today, we will be looking at the debit and check cards from Wachovia Bank.
Basics – The Wachovia Visa check card is a basic card given to those who have checking accounts with Wachovia Bank. Like all debit cards, you can use it as an ATM card and like a credit card where you can purchase stuff. Money comes out of your checking account when you use it for purchase transactions.
Features – Like most check cards these days, it comes with some additional features. Firstly, you can pay recurring bills like utilities with your check card. You are also protected against fraud for any fraudulent transactions on the card.
Wachovia Possibilities Rewards – The Wachovia check card also allows you to earn reward points for the "Wachovia Possibilities Rewards". You can earn 1 point for every $4 that you spend on the card (using signature based transactions and not with a PIN number). Points can be redeemed for rewards. There appears to be no annual fee as well.
Below is a snapshot of their reward program page.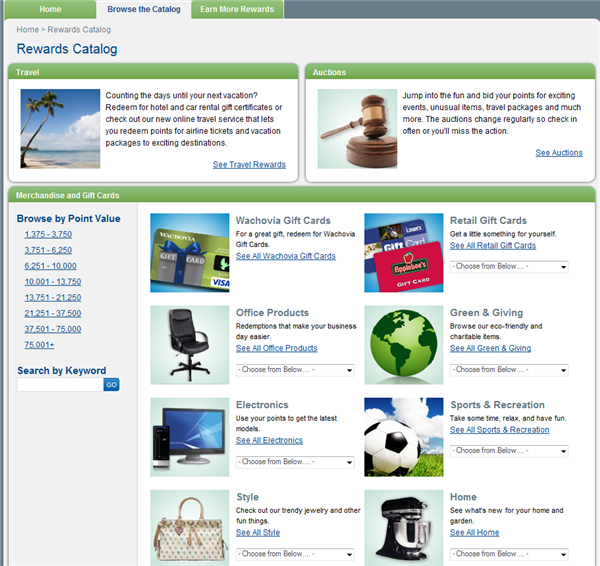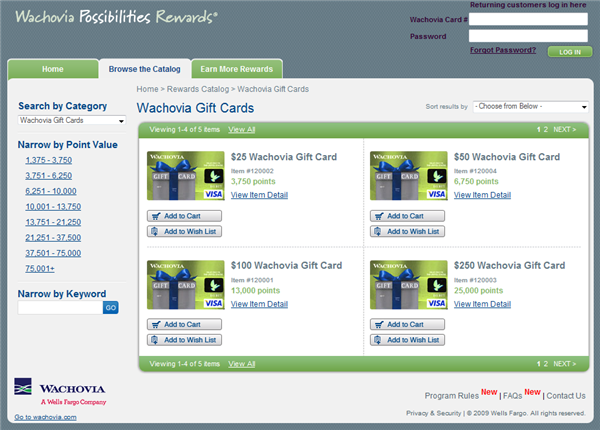 Online Shopping Discounts – Wachovia also has a shopping portal (which is actually run by Visa) that allows you to get discounts on goods when you them through the shopping portal and use your check card (much like Discover Card's shopdiscover.com). Below is a screen shot of the page and some merchants.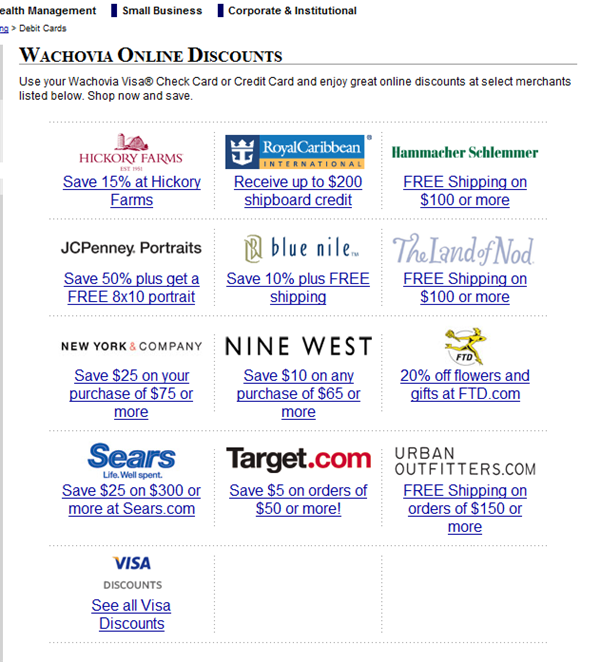 Wachovia Gold Check Card – Wachovia also issues a "Gold Card" version that has the extra feature of "emergency card replacement and cash disbursement service.
Verdict – The Wachovia debit card is just like any other bank debit card in its function. The one thing that it has going for it is that there is no annual fee to pay for their reward program. They also have an online shopping portal which allows you to get discounts. This is helpful for those who shop online. However, unlike credit cards, you can only earn 1 point for every $4 dollars that you spend. If you have a Wachovia checking account, then by all means use this as your ATM card. If it were me, I'll always be using a credit card to earn rewards points (I obviously pay in full every month). But I guess there will always be folks who detest credit cards. In that case, there would be no harm using this debit card like a credit card if you have an account with Wachovia.