Starwood Preferred Guests can take advantage of a different kind of discount when staying in imperial Vienna until December 31, 2011. The booking code is "BIRTHYEAR PROMOTION". Here is how it works:
If you stay at Hotel Imperial or Hotel Bristol for 3 nights, your 3rd night will be billed according to your birth year. For example, if your birth year is 1965, your third night stay will be €65. Double occupancy rooms will add the two birth years together, for instance if your guest's birth year is 1960; €60 plus €65 for the third night stay.
This will be handy of course, for anyone born in the 1900′s, but can equal quite a discount for most others as well.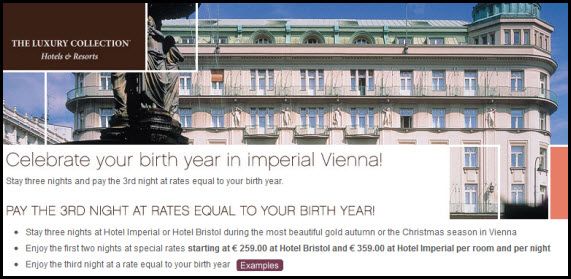 Earn Starpoints on your stay with the Starwood Preferred Guest Card from American Express.
Comments
comments