When you log into your online account, just click the tab at the top for "Send Money". You will need the cellphone number or email address for the recipient. You can send any amount to anyone and it will charge to your Discover Card as a purchase. Graduation is coming up and students are ready to head off to college. This is a great feature to have available for those little emergencies your child needs help with.
From Discover Cards website:
It's a fast and free way to send money.
- All you need is the recipient's e-mail address or mobile phone number
- There are no fees to send money
- Earn Cashback Bonus on every transaction
- Amount will be charged to your Discover card account like a purchase
and your regular purchase APR applies
- Receive all of the same protections as you do on your other card purchases,
including $0 fraud liability
- You can also send money from your phone with Discover Mobile
- Send up to $200 a day ($500 per month)
Recipient Experience
- Your recipient will be notified by e-mail or text message that the money
is available
- They can use an existing PayPal account or sign up for one at
PayPal.com – it's easy and free
- No fees are charged for domestic payments to friends and family
- Your recipient can spend the money online at thousands of merchants that
accept PayPal, transfer it to their bank account, or request a check
I love the fact that there are no fees. I am not aware of other credit car companies offering this feature, however, if they do, do they offer it at no extra charge? PLUS! You can your cash back bonus on top of that? Almost makes me wish my daughter was old enough for me to do this!
I did contact Discover Card and ask them if you can actually send it to yourself and they said that you cannot send money to yourself. It does have to be outside parties.
As shown below, all you need to do is input the recipients name, email add/cellphone number (cellphone must be able to accept texts), the amount you are sending, if you are sending to friends/family or paying for a service. You can also include a note to the recipient.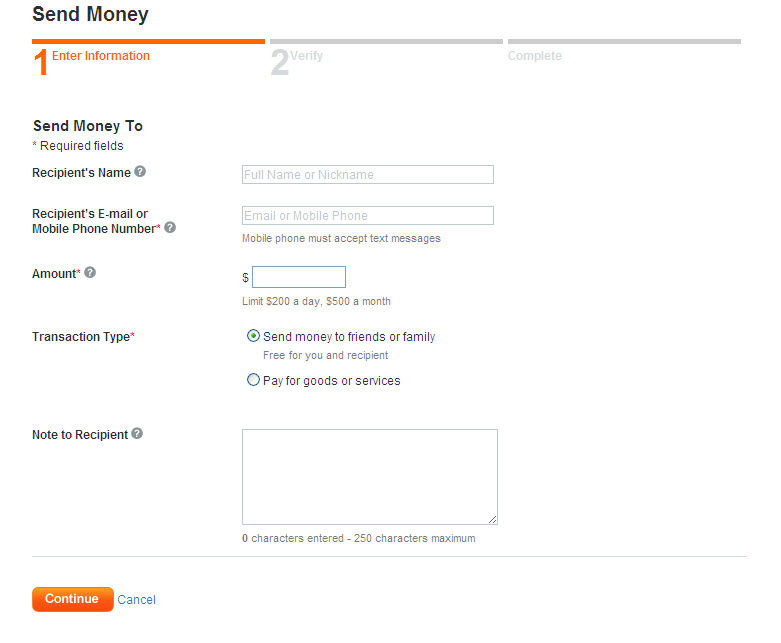 I think this is a wonderful option that is available to Discover Card customers. If you do not have a Discover card, do any of your cards offer this option?
Related Posts: