Summary: The PharmaPrix MasterCard credit card includes many benefits for cardholders as well as an opportunity to receive points for savings on products at Pharmaprix stores.
Features and Benefits: There is no annual fee for this credit card and new cardholders will receive an introductory annual interest rate of 1.99% on cheque cash advances and balance transfers for 6 months. The interest rate on purchases is 19.99%.
Other benefits of the credit card include around the clock fraud protection, free online account access and 24 hour customer service.
Pharmaprix Optimum Program: This program enables consumers to earn points on their purchases at Pharmaprix stores. Cardholders of the Pharmaprix Optimum MasterCard can earn additional points when using the credit card for purchases as well.
Cardholders earn 25 points for each $1 spent at Pharmaprix using the credit card and showing the PharmaPrix Optimum Card. Also earn 5 points per $1 spent on purchases everywhere else. Shoppers earn 15,000 bonus points on the first purchase made which is equal to an in store value of $25. Points can be redeemed for savings in Pharmaprix stores as shown in the chart below.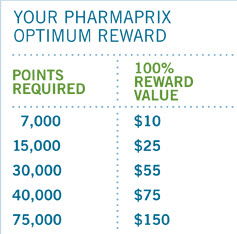 Conclusion: The Pharmaprix MasterCard is ideal for those that shop in PharmaPrix drugstores and include an opportunity for shoppers to save a great deal of money on everyday products. It is also worth looking into for those that may need to transfer high interest balances to take advantage of the low introductory interest rate.
Comments
comments