I am going to start a series of reviews for companies that store your Personal Health Records (PHR). These might be useful services especially when you travel abroad and meet an accident. These companies will take records of your medical records and store them in a USB drive and obviously on their website as well. Any doctor will be able to access your full medical record if you have the IBS drive with you or if they can access your records online. Today, we start with ER-Card, one of the many providers of PHR.
E-Card (www.e-card.com) is an online ePHR membership site that stores your medical records. The type of information that they store includes:
Current medications (prescribed, over-the-counter, herbal supplements)
Blood Type
Allergies (to food or medication)
Medical conditions
Emergency contacts
Physical or verbal limitations
Major surgeries (anything removed or implanted)
Primary care doctor
Treatment specialists
Emergency evacuation information
Advance directives
ER Card members will be able to do the following:
Access their Secure On-line Record anytime and anywhere by the internet, phone or fax from home, hospital, or your doctor's office. It is password protected ad HIPPA compliant
You will also experience their Care Management Services – in which ER Card staff will contact you, your family caregivers or legal guardians to ensure that information is current and accurate. There will also be reminders for preventative care visits.
Drug/Medication Review – ERCard staff pharmacists will review your medications for possible drug duplication, harmful interaction or other complications and notify you of any problems.
EMT Care Link- This is a cool service from ER Card whereby first responders have access to your information in times of emergency. ER Card is able to provide this because it has developed relationships with Emergency Rescue vehicles.
ER Card/Flash- This is the important thing to have when you travel. You can get a portable USB flash drives so you could carry it around when you travel.
Accessories – Members will also get the following accessories that will come in handy.
1. Exclusive ER Card wallet Membership Card
2. Hard copies of their personal health record- With Customized Folder
3. ER Card Key Tags
4. Window decals, Refrigerator magnets
5. ER Card USB Flash Drive (credit card, key ring, or jelly bracelet style) (optional)
6. ICE (In Case of Emergency) ID necklace (optional)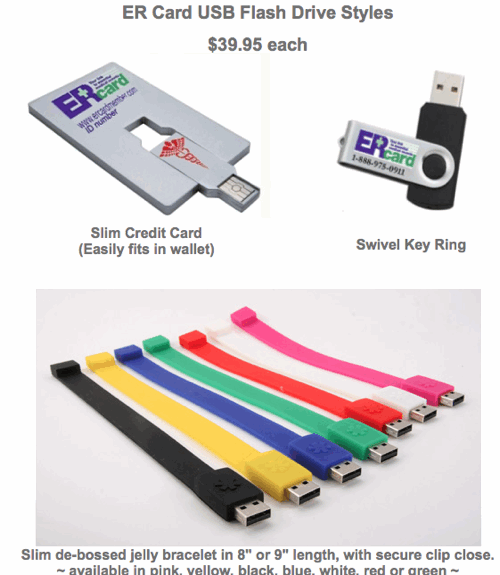 Cost – Firstly, the USB flash drive will cost you $39.95. You have a choice of choosing a slim credit card, key ring or jelly bracelet style) design. An individual membership cost $8/per month. Additional members (two or more) will cost $6/per member per month. If you choose to pay your annual fee in one lump sum, you get a 5% discount. And you get a 10% discount if you pay for 2 years worth of membership fee at once.
Verdict – There are many PHR membership providers. Er-Card is by no means the cheapest.But it does offer a pretty comprehensive service in terms of what they provide. If you are a frequent traveler, you may just want to consider getting a PHR service in case there is a need to access your medical records. ER-Card is definitely a service that you should check out and do some comparison with other services.
Related Posts: