Over this past week, the focus has come mainly from promotions from both credit cards, frequent flier programs and frequent guest programs.
BA Year End Promotion
Last week, US Airways came up with their year end bonus miles deal when you flew with them. Well, it appears that British Airways is going to top them all. I just got an email from them yesterday and from now until January 31st 2013, every flight you take with them earns you bonus miles. It starts with 15,000 miles for the first one, 35,000 for the second and 50,000 for the third one onwards. But unlike other deals like the Hyatt or US Airways, there is no cap. So for those transatlantic business flyers, this is one opportunity to rack up the Avios miles!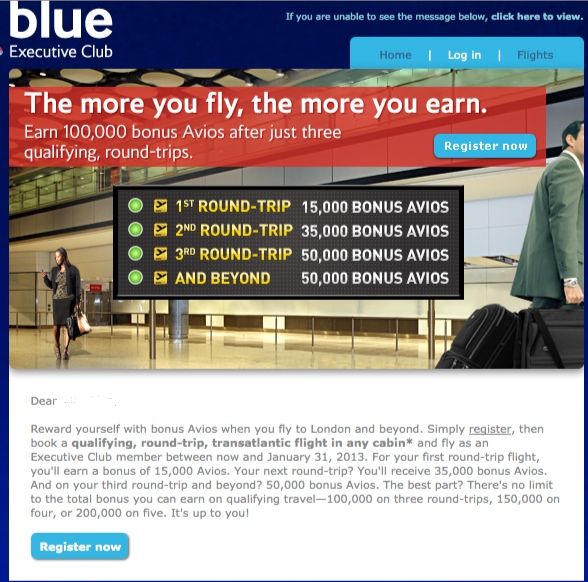 Citi Thank You Premier Promotion
On the credit card side, Citi has just announced a special time limited promotion. It appears that this promotion is only available on review sites like us. When I checked their site, it appears they have a slightly different promotion. Anyway, the promotion is for their Citi ThankYou&#174 Premier Rewards Card. New applicants can earn double points for 24 months (ie 2 years). The $95 annual fee is also waived for the first year. There is no sign up bonus, just the ability to earn double points. I think Citi is experimenting with this new tactic because to get the most value, you actually have to concentrate your spending on one card.
What makes the promotion interesting is the fact that this card had always offer card members one free annual companion ticket and 15% airfare discount and some other great perks that earning double miles gets you way more benefits than just a simple sign up bonus. I've also just updated the review of the card and included much more details on their perks.
Reminder: Amex Business Gold 50,000 Promotion
Here is a quick reminder that we are into our 2nd week of the 50,000 bonus points promotion of the Amex Business Gold Card. The promotion is good until November, so you still have plenty of time on this one.
From Around The Web
Credit Card Protection for Samsun Galaxy
One of the reasons why I love credit cards is because of the extended warranty and purchase protection feature. Here is an story about how a Samsung Galaxy broken screen was remedied!
TSA official caught on camera with stolen iPad
One Miles At A Time posted a video of a TSA official caught for stealing an iPad. For those of you too lazy to head over, here is the youtube video which I copied here!
Related Posts: