I recently got myself a MacBook Pro and I'm a really apple fan now. Back when I got it, I had just used up my Membership Reward Points for some travel stuff and did not really get the chance to see if I could have used it to get the Apple Macbook Pro. But if I had the points, would it have made sense? Let's do some investigative work.
Membership Reward Points – I have the American Express Platinum and from looking at the Membership Rewards, it looks like they have the best Apple Product lineup. Below are screen shots of just the point requirements for the 15 inch MacBook.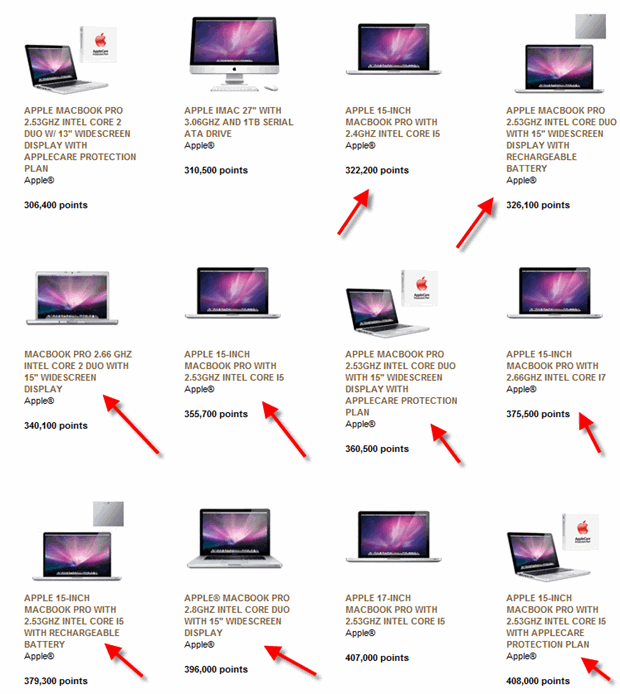 Citi's ThankYou Redemption Network – Next, I checked Citi's reward program to find out how many points they would need.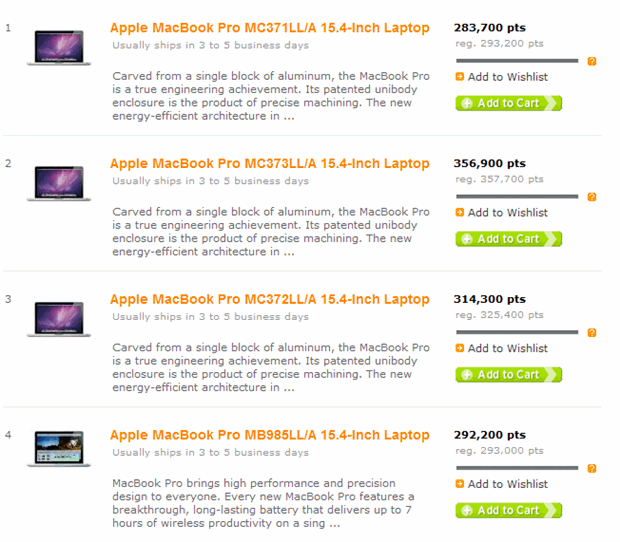 PenFed Rewards – Next, I looked at PenFed's rewards.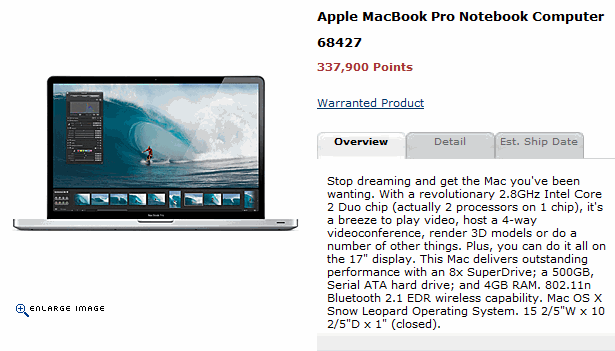 Chase Ultimate Rewards – Next, I logged on into my Chase Ultimate Rewards page and this is what I've found.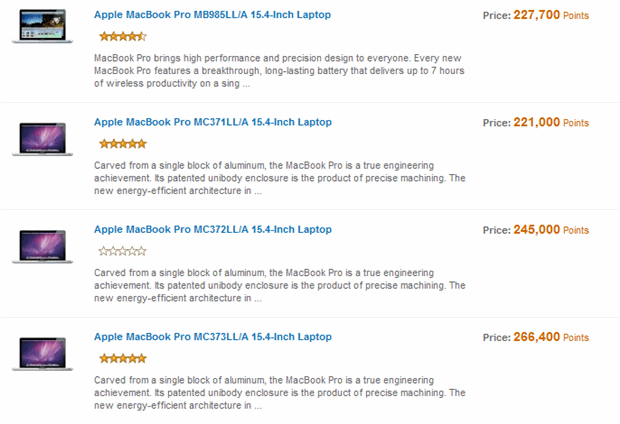 First Observations – If you look at the points required to redeem for the Apple MacBook Pro 15 inch from the different credit card issuers, you will realize that the points requirements vary. But you cannot just make a comparison and say "this program is better than that". Many times, the points requirement differential is due to the fact that one laptop may have better parts, like more memory, more advanced Intel chips for example.
Which Program Requires the Least Points?
To make things more interesting, I actually took a particular model (one with Intel 2.66 GHZ, i7 chip, 500GB Drive, 4GB Memory and the rest is pretty much standard) and compared Membership Rewards, Citi ThankYou and Chase Ultimate Rewards. Below are the pictures and point requirements.
Membership Rewards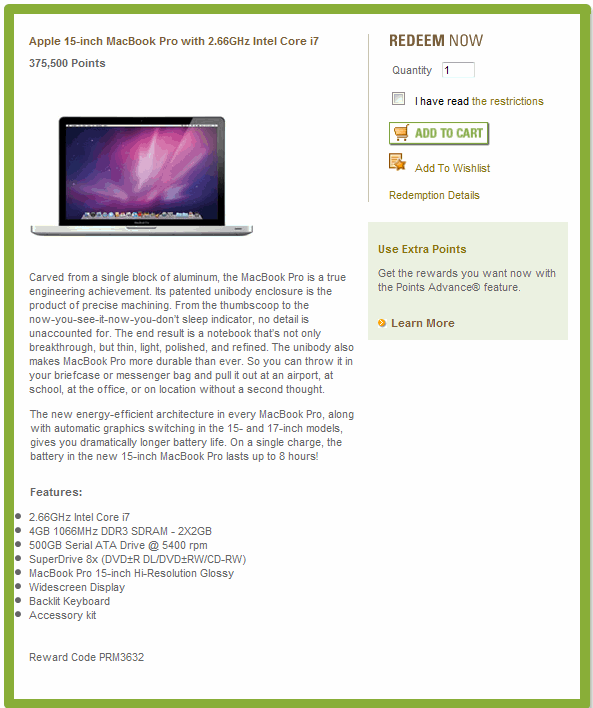 Citi ThankYou
Chase Ultimate Rewards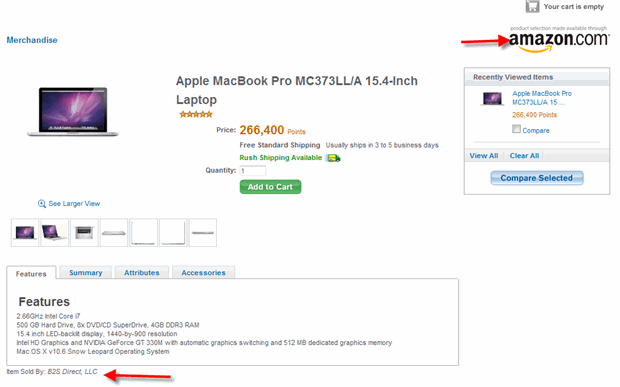 From the looks of it, Chase Ultimate Rewards requires the least number of points for this particular model. In fact, it is by a significant amount.
But the question is should you use your points for something like this?
The only way to determine this is to actually find out how much does this Apple MacBook Pro Cost. So I went to the Apple site and found out that it cost $2,199 (excluding taxes).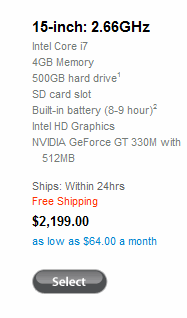 So even if you redeem with Chase Ultimate Rewards, you are getting "less than 1%" back in rebates and rewards equivalent. Though having said that, you may have used your card in such a way that you have actually earned more than 1% from the type of expenses and spending you put on the card. In that case, it might be a wash and you do actually come out ahead of more than 1% or 1 cent.
A better way to get more bang for the buck is to actually use Discover's shopping portal to an Apple. You can get 5% rebates from apple.com when you shop there after you log into your Discover account. Plus, you could also get a discount if you use a student ID or get a business account if you spend more than $5,000.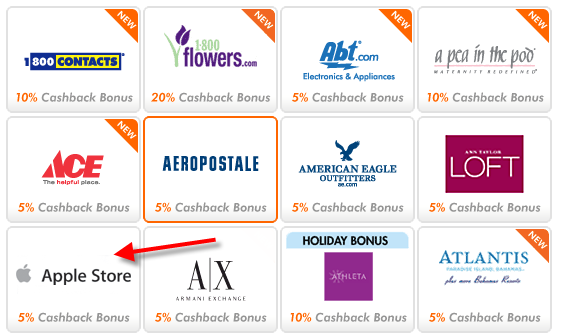 Clicking on the Apple Icon takes you to their terms and conditions page where you will see the fine prints.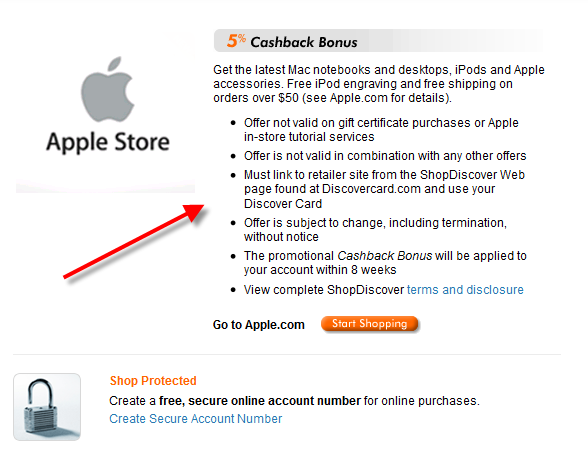 Conclusion from this whole exercise – In this particular instance, it would have made no sense for me to use reward points for an Apple notebook. The simply reason is that you need a lot of points and when you do the math, you are actually getting back less than 1% in rebate equivalent. If you have a Discover Card, then I think it would make sense shopping through their portal and getting 5% rebate, plus free shipping and a further student discount if it applies to you.
Related Posts: