Most major corporations donate money to various charities. Chase is no different. Last year, they organized an event called "American Giving Awards" where people voted for (the takes place before the events) the charities which they think Chase should donate to. In other words, you have an influence over their charity donations.
This year, the 2nd American Giving Awards will be held on 8th December 2012 on NBC at 8pm CST. The host this year will be Joel McHale. In addition, Oscar nominee Gary Sinise, Guys with Kids' Anthony Anderson, and Miss USA 2012 Olivia Culpo will be presenters as well, and hit singer Darius Rucker will be performing.
25 charities will be presented during the show and five will be chosen to share in $2 million (donated by Chase off course). The 25 charities that were nominated were split into five categories – Youth Developers, Heroes and Leaders, Community Builders, Champions of Health and Wellness and Educators and Mentors. For a sneak peak of the 25 charities, you can go to this page here.
Out of the 25 charities, the five that got the most votes will split the $2 million in the following way. The one with the most votes gets a $1 million grant. Next is $500,000, then $250,000. The fourth and fifth place will split $125,000 each.
Voting is already closed (last day was 4th December – they took place on mainly on their facebook).
Aside from the show, Chase is having another promotion going on between 8pm EST on 8th December 2012 to 4am EST 9th December 2012. I got this email from Chase saying that if I text "FREEDOM" to 68569 (since I am a Chase Freedom Visa member, they will donate $10 towards a charity that provides homes for disabled American veterans returning from war. They are looking to raise $100,000. You will stand a chance to a custom made, special edition Chase Freedom Paul Reed Smith guitar.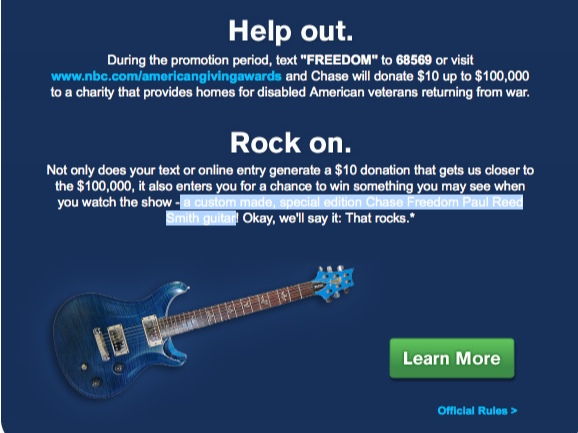 Related Posts: