The Alaska Airlines Business Credit Card is targeted at the business owner who flies frequently with Alaska Airlines and would like to earn faster miles.
Rewards – This card allows you to earn triple miles for every dollar spent on Alaska/Horizon ticket purchases. For everything else, you earn the usual 1 mile for every dollar that you spend on the card. New cardholders will get 20,000 miles after their first purchase on the card. And you will also get an annual $99 companion ticket discount code. You can earn unlimited miles on this card.
Fees – The Alaska Airlines Business card has got two fee structures. The first is a fee that is paid at the "company level". The 'company level fee is $50 if Company Earning Level Plan is adopted. And there is no additional fee for employees.
If the "individual plan" is adopted, the company will have to pay a $25 fee and it cost $75 for employee cards.
Verdict – The Alaska Airlines Business Credit Card is one of the better airline credit cards. Firstly, you can earn triple miles and secondly, you get an anniversary $99 companion ticket discount. For a business that has it's owners or employees flying a lot with Alaska Airlines, then this is a card to consider getting.
Alternatives – I would also like to highlight alternative cards where you can also earn miles for Alaska Airlines. The Starwood Preferred Guest program allows members to transfer their points to Alaska Airlines Mileage Plan miles on a one to one ratio. Furthermore, when you transfer 20,000 points to Alaska Miles, you get a additional 5,000 bonus miles. The Starwood Preferred Guest&#174 Business Credit Card from American Express OPEN is one of the very best rewards credit card you can get because you can transfer points to over 30 airline partners (most on a one for one ratio).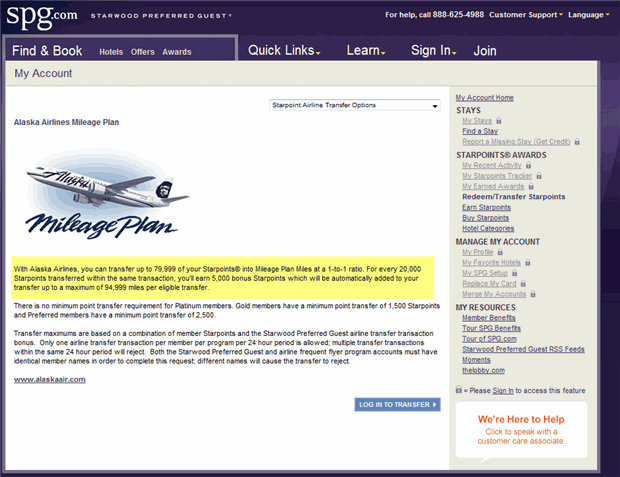 Related Posts: