Access America provides travel insurance and assistance, which includes medical evacuation, in a number of ways with a number of different memberships to choose from.
Access America is the travel insurance brand of Mondial Assistance, which is a global provider of travel insurance and assistance with offices in 28 countries.
Services not only include travel insurance, but also corporate assistance and concierge services. There are thousands of partnerships which include travel agencies, airlines, resorts and credit card companies.
Access America also works with businesses such as AAA, American Airlines, Delta Airlines, Disney Cruise Line, and Best Western. 150 million Visa credit card holders have insurance benefits and assistance services through Access America.
Types of Travel Insurance Plans
Single Trip Plans include Rental Car Damage Protector, Drive Protection and Quick Trip Protector, while Multi-Trip Plans include benefits such as Medical Evacuation, Annual Travel Protection and Annual Business Traveler Protection.
The Access America Basic plan consists of insurance and assistance for "budget-minded travelers". Access America Classic is for travelers  taking cruises, tours and family vacations and Access America Deluxe provides benefits suitable for those that need primary coverage for emergency medical and dental coverage for business related issues. The chart below compares the benefits for each plan.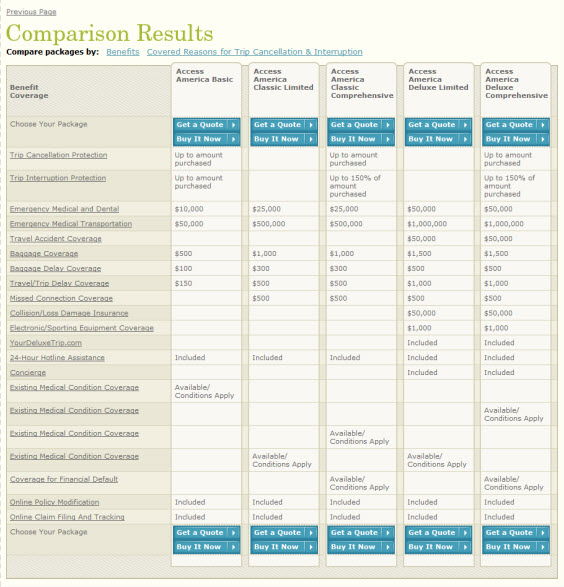 Verdict
There are virtually services and plans with Access America that will suit any individual, family or business that is traveling or planning on traveling. You are even given the option of choosing the kind of plan you need based upon the trip and services that you may need.  Access America also provides a 10 day guarantee. If you are not satisfied within 10 days and have not filed a claim or departed on your trip your insurance premium will be refunded.
Related Posts: